Hey Apex Legends, the Arcade is open. Play any mode, any time to warm up for your next tournament. LFG!
Introducing Co-Op Arcade
Arcade mode is the best way to warm up for your next Z League tournament, get some practice in after a new season of Apex Legends or Warzone, test out the big patch right after it drops, or a way to just have fun with your friends.
Arcade is a 1-hour, skill-based mission. Once you've created and account and connected your Platform ID on Z League, we'll pull your historic stats to give you 3 kill targets. With each kill target you hit, you'll have a chance to win an increasing number of credits.
For Apex players, you can play Arcade Solo or with your squad. With every player you add to your squad, the number of credits you can all win increases, so make sure to invite your friends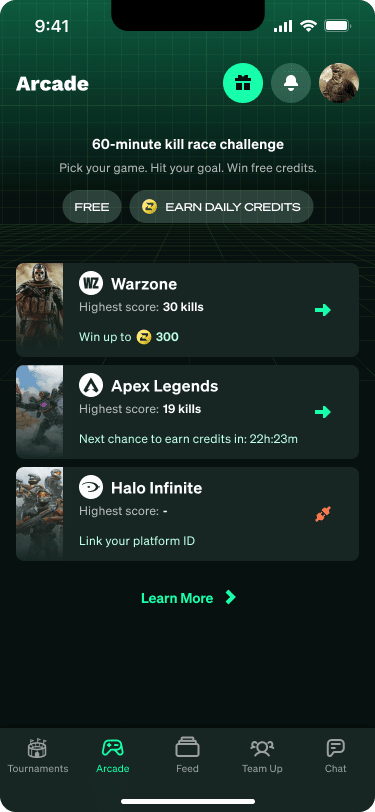 How it works
Playing Arcade on Z League is easy! Just make sure you have the Z League app downloaded to make sure you get the full experience.
Step 1: Queue up Solo or invite your friends
Queue solo, or invite your friends – with every additional player you invite, the number of credits you can win goes up.
Step 2: Select your Legends
Select your legend. Everyone in your squad must use a different legend.
Step 3: Get your kill targets and start playing!
Once your team is confirmed, we'll give you your team kill targets. Then, all you need to do is start playing! Drop into a pub lobby and we'll record your scores automatically. Make sure you keep an eye on the clock, because you'll only have 1 hour to hit your targets.
Step 4: Share how you did
Share your performance on the Feed in the Z League app or on your to show your friends how you did! Time to prove that you're the most Legendary among your friends.
Want to try out Arcade Co-Op?
Download the app to get started, available for free in the App Store or Google Play Store.