The camo grind is back on with the release of Modern Warfare 3. With Modern Warfare 2 weapons carrying forward into Modern Warfare 3, plus the addition of Zombies, there are now almost 1000 camos players can unlock. Keep reading for a breakdown of everything you need to know to unlock all mastery camos in MW3!
Modern Warfare 3 Weapon Camos: Key Takeaways
Base Camos from both MW2 and MW3 are universal and can be used on any unlocked weapon, regardless of origin game.
Mastery Camos are exclusive to weapons from their origin game – MW2 Mastery Camos cannot be used on MW3 weapons and vice-versa.
All weapons, regardless of game origin, will have up to 4 Base Camos and 4 Mastery Camos that can be unlocked the the Modern Warfare Zombies game mode.
Table of Contents
What are Camo Challenges in MW3?
In Modern Warfare 3, you have the option to take on camo challenges for individual weapons. These challenges involve achieving specific kill objectives under various conditions. For instance, you might need to secure 30 kills while in a prone position or attain 50 kills with a silencer equipped.
Upon successfully meeting a camo challenge's requirements, you'll unlock a weapon skin. For a base skin, this skin can be customized on any weapon of your choice within the game. A mastery camo can only be used on the weapon you unlocked it for. It's important to note that these weapon skins are purely cosmetic and do not affect the performance of the weapon in any way.
Looking for more reading? Check out ragequit.gg for more Call of Duty content.
What are Mastery Camos in MW3?
Mastery camos (officially called completionist camos) in Modern Warfare 3 are prestigious and highly coveted weapon skins that players can unlock by completing a series of challenging and time-consuming objectives for their weapons. These camos are typically considered the pinnacle of camo customization, and earning them often signifies a player's dedication and mastery of a particular weapon or class of weapons.
Mastery camos are a symbol of a player's commitment and skill in the game and are a badge of honor in the Call of Duty community. They are often associated with bragging rights and can showcase a player's proficiency with a wide range of weapons in the game.
How to unlock weapon camos in MW3
Multiplayer Camos
MW2 Weapons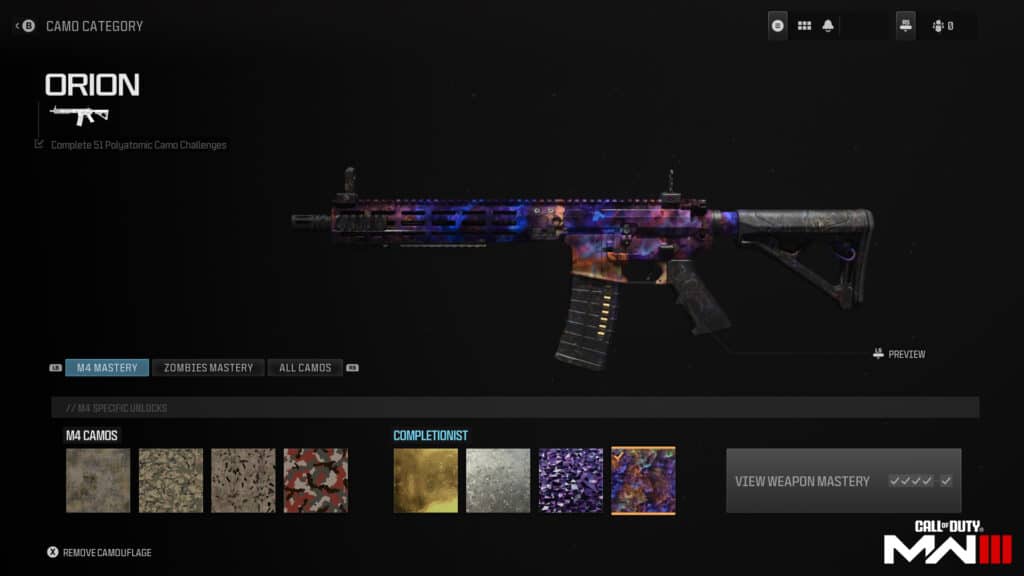 All individual Base Camos and Mastery Camos unlocked in Modern Warfare 2 will transfer over to Modern Warfare 3. The only exception is the MW2 Mastery Camos (Gold, Platinum, Polyatomic, and Orion), which remain exclusive to Modern Warfare 2 weapons. These four Mastery Camos cannot be used on MW3 weapons, and vice versa.
However, all Base Weapon Camos are universal and can be applied to any weapon in MW3, regardless of whether the weapon or Camo originated in MW2 or MW3. This means you can freely apply a MW2 base Camo to a MW3 weapon and vice versa, provided that you've unlocked both the weapon and Camo in question.
Any challenges you haven't completed carry over and can be completed in Modern Warfare 3, so you can effectively continue your Modern Warfare 2 Mastery Camo grind in MW3.
MW3 Weapons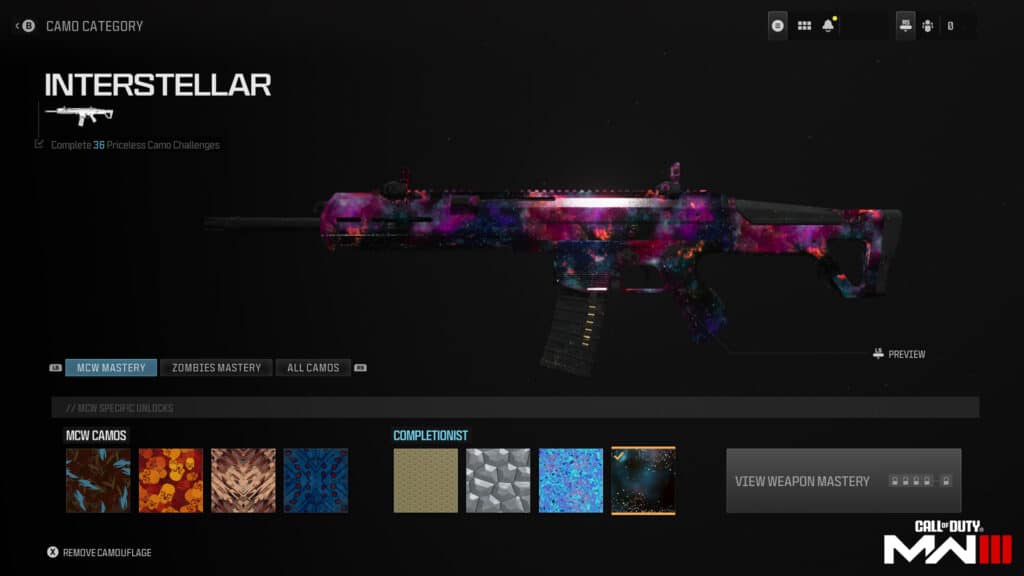 As with the Modern Warfare 2 weapons, each Modern Warfare 3 weapon will have up to 4 Base Camos that can be unlocked. These Base Camos can then be applied to any unlocked weapon, regardless of game of origin. Base Camo challenges for MW3 weapons will unique to weapon classes.

Along with the new Base Camos, MW3 weapons will also have 4 brand new Mastery Camos to unlock, which players can begin to unlock once they have completed the Base Camo challenges. As with the MW2 Mastery Camos, these can only be applied to the MW3 weapons you have unlocked them for, and cannot be applied to MW2 weapons. The new Mastery Camos are: Gilded, Forged, Priceless, and Interstellar.
Zombie Camos
Zombies is in a Modern Warfare game for the first time, and with it comes a whole set of camos, including up to 4 Base Camos per weapon and 4 additional Mastery Camos to unlock. These sets of challenges are available for both MW2 and MW3 weapons, with the weapons from the two games having different sets of Mastery Camos. Weapons from MW2 will be able to unlock the Golden Ivory, Spinel Husk, Arachnida, and Bioluminescent weapon skins. Weapons from MW3 will be able to unlock the Golden Enigma, Zircon Scale, Serpentinite, and Borealis weapon skins.
All MW3 Multiplayer Camo Challenges
ARs
MCW

| Camo Name | Challenge | Unlock Level |
| --- | --- | --- |
| Razor Feather | Get 50 kills with the MCW | 2 |
| Skullflagration | Get 50 kills with Aiming Down Sights with the MCW | 12 |
| Abyssal Fox | Get 15 Headshot kills with the MCW | 19 |
| Menelaus Blue | Get 25 kills while in Tactical Stance with the SVA 545 | 28 |
| Gilded | Get 3 Operator Kills with 1 Magazine 10 Times with the MCW | Complete All Base Camo Challenges |
| Forged | Get 3 kills without dying 10 times with the MCW | Complete 6 Gilded Camo Challenges with ARs |
| Priceless | Get 5 kills without dying 10 times with the MCW | Complete 36 Forged Camo Challenges |
| Interstellar | N/A | Complete 36 Priceless Camo Challenges |
SVA 545

| Camo Name | Challenge | Unlock Level |
| --- | --- | --- |
| Blue Tones | Get 50 kills with the SVA 545 | 2 |
| Topo Muddy | Get 50 kills while Aiming Down Sights with the SVA 545 | 13 |
| Cinders | Get 15 Headshot kills with the SVA 545 | 20 |
| Monarch | Get 25 kills while in Tactical Stance with the MCW | 30 |
| Gilded | Get 3 Operator Kills with 1 Magazine 10 Times with the SVA 545 | Complete All Base Camo Challenges |
| Forged | Get 25 Multikills with the SVA 545 | Complete 6 Gilded Camo Challenges with ARs |
| Priceless | Get 15 Headshot Kills with a Magnification Scope with the SVA 545 | Complete 36 Forged Camo Challenges |
| Interstellar | N/A | Complete 36 Priceless Camo Challenges |
MTZ-556

| Camo Name | Challenge | Unlock Level |
| --- | --- | --- |
| Orange Tones | Get 50 kills with the MTZ-556 | 2 |
| Iris Glitch | Get 50 kills while Aiming Down Sights with the MTZ-556 | 11 |
| Germ Factory | Get 15 Headshot kills with the MTZ-556 | 17 |
| Purple | Get 25 kills while in Tactical Stance with the MTZ-556 | 26 |
| Gilded | Get 25 kills while in Tactical Stance with the MTZ-556 | Complete All Base Camo Challenges |
| Forged | Get 10 kills while moving in Tactical Stance with the MTZ-556 | Complete 6 Gilded Camo Challenges with ARs |
| Priceless | Kill 10 enemies affected by a tactical while in Tactical Stance with the MTZ-556 | Complete 36 Forged Camo Challenges |
| Interstellar | N/A | Complete 36 Priceless Camo Challenges |
Holger 556

| Camo Name | Challenge | Unlock Level |
| --- | --- | --- |
| Fractical Dirt | Get 50 kills with the Holger 556 | 2 |
| Topo Glitch | Get 50 kills while Aiming Down Sights with the Holger 556 | 10 |
| Palette Rosemary | Get 15 Headshot kills with the Holger 556 | 16 |
| Magma Heat | Get 25 kills while in Tactical Stance with the Holger 556 | 24 |
| Gilded | Get 3 Operator Kills with 1 Magazine 10 Times with the Holger 556 | Complete All Base Camo Challenges |
| Forged | Get 25 kills with underbarrel attachments equiped on the Holger 556 | Complete 6 Gilded Camo Challenges with ARs |
| Priceless | Get 15 longshot kills while mounted with the Holger 556 | Complete 36 Forged Camo Challenges |
| Interstellar | N/A | Complete 36 Priceless Camo Challenges |
DG-58

| | | |
| --- | --- | --- |
| Heat Map | Get 50 kills with the DG-58 | 2 |
| Creeplines | Get 50 kills while Aiming Down Sights with the DG-58 | 11 |
| Twilight Glitch | Get 15 Headshot kills with the DG-58 | 17 |
| Oakleaf | Get 25 kills while in Tactical Stance with the DG-58 | 25 |
| Gilded | Get 3 Operator Kills with 1 Magazine 10 Times with the DG-58 | Complete All Base Camo Challenges |
| Forged | Get 10 kills while Aiming Down Sights and strafing with the DG-58 | Complete 6 Gilded Camo Challenges with ARs |
| Priceless | Get 10 one-burst kills with the DG-58 | Complete 36 Forged Camo Challenges |
| Interstellar | N/A | Complete 36 Priceless Camo Challenges |
FR 5.56

| Camo Name | Challenge | Unlock Level |
| --- | --- | --- |
| Get Stony | Get 50 kills with the FR 5.56 | 2 |
| Digital Bloodbath | Get 50 kills while Aiming Down Sights with the FR 5.56 | 8 |
| Nightshade | Get 15 Headshot kills with the FR 5.56 | 13 |
| Tiger Blood | Get 25 kills while in Tactical Stance with the FR 5.56 | 19 |
| Gilded | Get 3 Operator Kills with 1 Magazine 10 Times with the FR 5.56 | Complete All Base Camo Challenges |
| Forged | Get 20 one-burst kills with the FR 5.56 | Complete 6 Gilded Camo Challenges with ARs |
| Priceless | Get 15 headshots with a magnification scope with the FR 5.56 | Complete 36 Forged Camo Challenges |
| Interstellar | N/A | Complete 36 Priceless Camo Challenges |
BRs
MTZ-762

| | | |
| --- | --- | --- |
| Aquatic Blur | Get 50 kills with the MTZ-762 | 2 |
| Topo Caustic | Get 50 Kills while Fully Auto with the MTZ-762 | 10 |
| Heatwave | Get 10 Kills while using a magnification scope attachment with the MTZ-762 | 15 |
| Blue Satin | Get 15 headshots with the MTZ-762 | 23 |
| Gilded | Get 3 Operator Kills with 1 Magazine 10 Times with the MTZ-762 | Complete All Base Camo Challenges |
| Forged | Get 25 One Shot One Kills with the MTZ-762 | Complete 3 Gilded Camo Challenges with BRs |
| Priceless | Get 25 longshot kills with the MTZ-762 | Complete 36 Forged Camo Challenges |
| Interstellar | N/A | Complete 36 Priceless Camo Challenges |
BAS-B

| | | |
| --- | --- | --- |
| Sunset Blur | Get 50 kills with the BAS-B | 2 |
| Phantom Glitch | Get 50 Kills while Fully Auto with the BAS-B | 12 |
| Orange Sands | Get 10 Kills while using a magnification scope attachment with the BAS-B | 19 |
| White Satin | Get 15 headshots with the BAS-B | 29 |
| Gilded | Get 3 Operator Kills with 1 Magazine 10 Times with the BAS-B | Complete All Base Camo Challenges |
| Forged | Get 10 Multikills with the BAS-B | Complete 3 Gilded Camo Challenges with BRs |
| Priceless | Get 25 Suppressed Clean Kills with the BAS-B | Complete 36 Forged Camo Challenges |
| Interstellar | N/A | Complete 36 Priceless Camo Challenges |
Sidewinder

| | | |
| --- | --- | --- |
| Solar Flare | Get 50 kills with the Sidewinder | 2 |
| Sandzone | Get 50 Kills while Fully Auto with the Sidewinder | 12 |
| Mind Peak | Get 10 Kills while using a magnification scope attachment with the Sidewinder | 19 |
| Purple Satin | Get 15 headshots with the Sidewinder | 28 |
| Gilded | Get 3 Operator Kills with 1 Magazine 10 Times with the Sidewinder | Complete All Base Camo Challenges |
| Forged | Get 25 kills while Aiming Down Sights and fully loaded with the Sidewinder | Complete 3 Gilded Camo Challenges with BRs |
| Priceless | Get 15 semi-auto headshotswith a magnification scope with the Sidewinder | Complete 36 Forged Camo Challenges |
| Interstellar | N/A | Complete 36 Priceless Camo Challenges |
SMGs
Rival-9

| | | |
| --- | --- | --- |
| Rock Stone | Get 50 kills with the Rival-9 | 2 |
| Rock Glow | Get 25 hipfire kills with the Rival-9 | 9 |
| Deluge Glitch | Get 10 kills while crouching or sliding with the Rival-9 | 14 |
| Bacterial Decay | Get 15 kills on operators affected by your tactical with the Rival-9 | 20 |
| Gilded | Get 10 kills without the enemy damaging you with the Rival-9 | Complete All Base Camo Challenges |
| Forged | Get 10 kills shortly after Aiming Down Sights with the Rival-9 | Complete 6 Gilded Camo Challenges with SMGs |
| Priceless | Get 10 suppressed double kills with the Rival-9 | Complete 36 Forged Camo Challenges |
| Interstellar | N/A | Complete 36 Priceless Camo Challenges |
Striker

| | | |
| --- | --- | --- |
| Ameerga | Get 50 kills with the Striker | 2 |
| Topo Regal | Get 25 hipfire kills with the Striker | 10 |
| Absorption | Get 10 kills while crouching or sliding with the Striker | 15 |
| Viral Invasion | Get 15 kills on operators affected by your tactical with the Striker | 23 |
| Gilded | Get 10 kills without the enemy damaging you with the Striker | Complete All Base Camo Challenges |
| Forged | Get 3 kills without dying 10 times with the Striker | Complete 6 Gilded Camo Challenges with SMGs |
| Priceless | Get 5 kills without dying 10 times with the Striker | Complete 36 Forged Camo Challenges |
| Interstellar | N/A | Complete 36 Priceless Camo Challenges |
AMR9

| | | |
| --- | --- | --- |
| Dart | Get 50 kills with the AMR9 | 2 |
| Amaranth Sands | Get 25 hipfire kills with the AMR9 | 12 |
| Microscopic | Get 10 kills while crouching or sliding with the AMR9 | 19 |
| Rainfall Glitch | Get 15 kills on operators affected by your tactical with the AMR9 | 29 |
| Gilded | Get 10 kills without the enemy damaging you with the AMR9 | Complete All Base Camo Challenges |
| Forged | Get 10 kills shortly after Aiming Down Sights with the AMR9 | Complete 6 Gilded Camo Challenges with SMGs |
| Priceless | Get 10 kills while being out of enemy's line of sight with the AMR9 | Complete 36 Forged Camo Challenges |
| Interstellar | N/A | Complete 36 Priceless Camo Challenges |
WSP Swarm

| | | |
| --- | --- | --- |
| Phantasmal | Get 50 kills with the WSP Swarm | 2 |
| Granite Pass | Get 25 hipfire kills with the WSP Swarm | 11 |
| Red | Get 10 kills while crouching or sliding with the WSP Swarm | 18 |
| Fritillary | Get 15 kills on operators affected by your tactical with the WSP Swarm | 27 |
| Gilded | Get 10 kills without the enemy damaging you with the WSP Swarm | Complete All Base Camo Challenges |
| Forged | Get 10 Hipfire Kills while the enemy is affected by your tactical with the WSP Swarm | Complete 6 Gilded Camo Challenges with SMGs |
| Priceless | Get 10 Operator Double Kills while in Tac Stance with the WSP Swarm | Complete 36 Forged Camo Challenges |
| Interstellar | N/A | Complete 36 Priceless Camo Challenges |
WSP-9

| | | |
| --- | --- | --- |
| Golden Poison | Get 50 kills with the WSP-9 | 2 |
| Shattered Rock | Get 25 hipfire kills with the WSP-9 | 12 |
| Orange | Get 10 kills while crouching or sliding with the WSP-9 | 19 |
| Orange Sulphur | Get 15 kills on operators affected by your tactical with the WSP-9 | 28 |
| Gilded | Get 10 kills without the enemy damaging you with the WSP-9 | Complete All Base Camo Challenges |
| Forged | Get 10 kills with a magnification scope with the WSP-9 | Complete 6 Gilded Camo Challenges with SMGs |
| Priceless | Get 10 suppressed headshots with the WSP-9 | Complete 36 Forged Camo Challenges |
| Interstellar | N/A | Complete 36 Priceless Camo Challenges |
Striker-9

| | | |
| --- | --- | --- |
| Marbled | Get 50 kills with the Striker-9 | 2 |
| Topo Hardpan | Get 25 hipfire kills with the Striker-9 | 11 |
| Yellow Sands | Get 10 kills while crouching or sliding with the Striker-9 | 17 |
| Desolate Ops | Get 15 kills on operators affected by your tactical with the Striker-9 | 25 |
| Gilded | Get 10 kills without the enemy damaging you with the Striker-9 | Complete All Base Camo Challenges |
| Forged | Get 15 longshot kills with the Striker-9 | Complete 6 Gilded Camo Challenges with SMGs |
| Priceless | Get 15 headshots while moving with the Striker-9 | Complete 36 Forged Camo Challenges |
| Interstellar | N/A | Complete 36 Priceless Camo Challenges |
Shotguns
Riveter

| | | |
| --- | --- | --- |
| Purple Sands | Get 50 kills with the Riveter | 2 |
| 80s Spheres | Get 50 Hipfire Kills with the Riveter | 10 |
| Palette Grasses | Get 10 kills with Aiming Down Sights with the Riveter | 16 |
| Upward Reverb | Get 15 Double Kills with the Riveter | 24 |
| Gilded | Get 2 kills shortly after Sprinting in 1 life with the Riveter | Complete All Base Camo Challenges |
| Forged | Get 25 multikills with the Riveter | Complete 3 Gilded Camo Challenges with Shotguns |
| Priceless | Get 5 kills without dying 5 times with the Riveter | Complete 36 Forged Camo Challenges |
| Interstellar | N/A | Complete 36 Priceless Camo Challenges |
Lockwood 680

| | | |
| --- | --- | --- |
| Blue Sands | Get 50 kills with the Lockwood 680 | 2 |
| Palette Navy | Get 50 Hipfire Kills with the Lockwood 680 | 11 |
| Descent | Get 10 kills with Aiming Down Sights with the Lockwood 680 | 18 |
| Overwhelmed | Get 15 Double Kills with the Lockwood 680 | 27 |
| Gilded | Get 2 kills shortly after Sprinting in 1 life with the Lockwood 680 | Complete All Base Camo Challenges |
| Forged | Get 25 1 Shot One Kills while ADS with the Lockwood 680 | Complete 3 Gilded Camo Challenges with Shotguns |
| Priceless | Get 5 Hipfire kills while moving with the Lockwood 680 | Complete 36 Forged Camo Challenges |
| Interstellar | N/A | Complete 36 Priceless Camo Challenges |
Haymaker

| | | |
| --- | --- | --- |
| Pink Sands | Get 50 kills with the Haymaker | 2 |
| Guts | Get 50 Hipfire Kills with the Haymaker | 9 |
| Palette Tropics | Get 10 kills with Aiming Down Sights with the Haymaker | 15 |
| Smooth Satin | Get 15 Double Kills with the Haymaker | 22 |
| Gilded | Get 2 kills shortly after Sprinting in 1 life with the Haymaker | Complete All Base Camo Challenges |
| Forged | Get 3 hipfire kills with one mag 15 times with the Haymaker | Complete 3 Gilded Camo Challenges with Shotguns |
| Priceless | Get 10 double kills while in Tactical Stance with the Haymaker | Complete 36 Forged Camo Challenges |
| Interstellar | N/A | Complete 36 Priceless Camo Challenges |
LMGs
Pulemyot 762

| | | |
| --- | --- | --- |
| Cosmic Filaments | Get 50 kills with the Pulemyot 762 | 2 |
| Ember Glitch | Get 10 Penetration Kills with the Pulemyot 762 | 12 |
| Sunset Retro | Get 10 kills with full attachments with the Pulemyot 762 | 19 |
| B&W Fuzz | Get 10 Double Kills with the Pulemyot 762 | 28 |
| Gilded | Get 2 Kills without releasing the trigger 10 times with the Pulemyot 762 | Complete All Base Camo Challenges |
| Forged | Get 25 kills while using a magnification scope attachment with the Pulemyot 762 | Complete 4 Gilded Weapon Camo Challenges with LMGs |
| Priceless | Get 5 kills with 1 magazine 10 times with the Pulemyot 762 | Complete 36 Forged Camo Challenges |
| Interstellar | N/A | Complete 36 Priceless Camo Challenges |
DG-58 LSW

| | | |
| --- | --- | --- |
| Psychedelic Sky | Get 50 kills with the DG-58 LSW | 2 |
| Topo reverb | Get 10 Penetration Kills with the DG-58 LSW | 12 |
| Cold Fall | Get 10 Kills with full attachments with the DG-58 LSW | 19 |
| B&W Re-Fuzz | Get 10 Double Kills with the DG-58 LSW | 29 |
| Gilded | Get 2 Kills without releasing the trigger 10 times with the DG-58 LSW | Complete All Base Camo Challenges |
| Forged | Get 25 kills while Aiming Down Sights and Moving with the DG-58 LSW | Complete 4 Gilded Weapon Camo Challenges with LMGs |
| Priceless | Get 25 hipfire kills while strafing with the DG-58 LSW | Complete 36 Forged Camo Challenges |
| Interstellar | N/A | Complete 36 Priceless Camo Challenges |
Holger 26

| | | |
| --- | --- | --- |
| Ghastly | Get 50 kills with the Holger 26 | 2 |
| Cobalt Sands | Get 10 Penetration Kills with the Holger 26 | 9 |
| Green Field | Get 10 Kills with full attachments with the Holger 26 | 14 |
| Warbled | Get 10 Double Kills with the Holger 26 | 20 |
| Gilded | Get 2 Kills without releasing the trigger 10 times with the Holger 26 | Complete All Base Camo Challenges |
| Forged | Get 25 kills while Aiming Down Sights and Moving with the Holger 26 | Complete 4 Gilded Weapon Camo Challenges with LMGs |
| Priceless | Get 25 hipfire kills while strafing with the Holger 26 | Complete 36 Forged Camo Challenges |
| Interstellar | N/A | Complete 36 Priceless Camo Challenges |
Bruen Mk9

| | | |
| --- | --- | --- |
| Dusted | Get 50 kills with the Bruen Mk9 | 2 |
| Shuffle | Get 10 Penetration Kills with the Bruen Mk9 | 9 |
| Drip | Get 10 Kills with full attachments with the Bruen Mk9 | 14 |
| Gaggle | Get 10 Double Kills with the Bruen Mk9 | 20 |
| Gilded | Get 2 Kills without releasing the trigger 10 times with the Bruen Mk9 | Complete All Base Camo Challenges |
| Forged | Get 20 Suppressed Headshots with the Bruen Mk9 | Complete 4 Gilded Weapon Camo Challenges with LMGs |
| Priceless | Get 3 kills with one mag 10 times with the Bruen MK9 | Complete 36 Forged Camo Challenges |
| Interstellar | N/A | Complete 36 Priceless Camo Challenges |
Marksman Rifles
MTZ interceptor

| | | |
| --- | --- | --- |
| Psychedelic Loops | Get 50 kills with the MTZ interceptor | 2 |
| Thick Brush | Get 50 Headshot Kills with the MTZ interceptor | 8 |
| Oil Slick Glitch | Get 10 kills with no attachments with the MTZ interceptor | 12 |
| Skullish | Get 2 Kills without dying 15 times with the MTZ interceptor | 18 |
| Gilded | Get 10 kills using a laser attachment with the MTZ interceptor | Complete All Base Camo Challenges |
| Forged | Get 3 kills without dying 10 times with the MTZ Interceptor | Complete 4 Gilded Camo Challenges with Marksman Rifles. |
| Priceless | Get 5 kills without dying 5 times with the MTZ Interceptor | Complete 36 Forged Camo Challenges |
| Interstellar | N/A | Complete 36 Priceless Camo Challenges |
MCW 6.8

| | | |
| --- | --- | --- |
| Sharp Brush | Get 50 kills with the MCW 6.8 | 2 |
| Topo Lithic | Get 50 Headshot Kills with the MCW 6.8 | 10 |
| Dry Heat | Get 10 kills with no attachments with the MCW 6.8 | 16 |
| Insectoid | Get 2 Kills without dying 15 times with the MCW 6.8 | 24 |
| Gilded | Get 10 kills using a laser attachment with the MCW 6.8 | Complete All Base Camo Challenges |
| Forged | Get 3 Operator Kills with 1 Magazine 15 Times with the FR 5.56 | Complete 4 Gilded Camo Challenges with Marksman Rifles. |
| Priceless | Get 15 Suppressed Clean Kills with the MCW 6.8 | Complete 36 Forged Camo Challenges |
| Interstellar | N/A | Complete 36 Priceless Camo Challenges |
KVD Enforcer

| | | |
| --- | --- | --- |
| Viral | Get 50 kills with the KVD Enforcer | 2 |
| Palette Garden | Get 50 Headshot Kills with the KVD Enforcer | 13 |
| Clouded Mind | Get 10 kills with no attachments with the KVD Enforcer | 20 |
| Skull-O-Vision | Get 2 Kills without dying 15 times with the KVD Enforcer | 30 |
| Gilded | Get 10 kills using a laser attachment with the KVD Enforcer | Complete All Base Camo Challenges |
| Forged | Get 25 One Shot One Kills with the KVD Enforcer | Complete 4 Gilded Camo Challenges with Marksman Rifles. |
| Priceless | Get 25 Extreme Magnification Kills [8x+] with the KVD Enforcer | Complete 36 Forged Camo Challenges |
| Interstellar | N/A | Complete 36 Priceless Camo Challenges |
DM56

| | | |
| --- | --- | --- |
| Microbiology | Get 50 kills with the DM56 | 2 |
| Woods Brush | Get 50 Headshot Kills with the DM56 | 10 |
| Red Sands | Get 10 kills with no attachments with the DM56 | 15 |
| Bone Shaker | Get 2 Kills without dying 15 times with the DM56 | 23 |
| Gilded | Get 10 kills using a laser attachment with the DM56 | Complete All Base Camo Challenges |
| Forged | Get 25 kills while in Tactical Stance with DM56 | Complete 4 Gilded Camo Challenges with Marksman Rifles. |
| Priceless | Get 15 headshots with iron sights with the DM56 | Complete 36 Forged Camo Challenges |
| Interstellar | N/A | Complete 36 Priceless Camo Challenges |
Sniper Rifles
Longbow

| | | |
| --- | --- | --- |
| Crimson Skulls | Get 50 kills with the Longbow | 2 |
| Topo Arid | Get 50 Kills shortly after Aiming Down Sights with the Longbow | 13 |
| Palette Sunrise | Get 3 Kills with 1 magazine 10 times with the Longbow | 21 |
| Rippled | Get 15 One Shot Kills with the Longbow | 31 |
| Gilded | Get 10 kills while Focused Down Sights 10 Times with Longbow | Complete All Base Camo Challenges |
| Forged | Get 25 Kills while Aiming Down Sights and Fully Loaded with the Longbow | Complete 3 Gilded Camo Challenges with Snipers |
| Priceless | Get 5 Kills without dying 3times with the Longbow | Complete 36 Forged Camo Challenges |
| Interstellar | N/A | Complete 36 Priceless Camo Challenges |
KV Inhibitor

| | | |
| --- | --- | --- |
| Deathparency | Get 50 kills with the KV Inhibitor | 2 |
| Tactical Colors | Get 50 Kills shortly after Aiming Down Sights with the KV Inhibitor | 14 |
| Palette Dusk | Get 3 Kills with 1 magazine 10 times with the KV Inhibitor | 22 |
| Puzzling Tiles | Get 15 One Shot Kills with the KV Inhibitor | 33 |
| Gilded | Get 10 kills while Focused Down Sights 10 Times with KV Inhibitor | Complete All Base Camo Challenges |
| Forged | Get 25 Headshot Kills with the KV Inhibitor | Complete 3 Gilded Camo Challenges with Snipers |
| Priceless | Get 5 Headshots while moving with the KV Inhibitor | Complete 36 Forged Camo Challenges |
| Interstellar | N/A | Complete 36 Priceless Camo Challenges |
KATT-AMR

| | | |
| --- | --- | --- |
| Death 3D | Get 50 kills with the KATT-AMR | 2 |
| Topo Boulder | Get 50 Kills shortly after Aiming Down Sights with the KATT-AMR | 11 |
| Palette Neapolitan | Get 3 Kills with 1 magazine 10 times with the KATT-AMR | 17 |
| Art Glass | Get 15 One Shot Kills with the KATT-AMR | 27 |
| Gilded | Get 10 kills while Focused Down Sights 10 Times with KATT-AMR | Complete All Base Camo Challenges |
| Forged | Get 15 Penetration Kills with the KATT-AMR | Complete 3 Gilded Camo Challenges with Snipers |
| Priceless | Get 3 Suppressed Headshots with the KATT-AMR | Complete 36 Forged Camo Challenges |
| Interstellar | N/A | Complete 36 Priceless Camo Challenges |
Handguns
Renetti

| | | |
| --- | --- | --- |
| Pyro Filaments | Get 50 kills with the Renetti | 2 |
| Red Cells | Get 50 Kills while Aiming Down Sights with the Renetti | 9 |
| Psychotropic | Get 10 Kills while moving with the Renetti | 14 |
| Pabels | Get 15 Kills with the Akimbo attachment equipped on the Renetti | 21 |
| Gilded | Get 10 kills without the enemy damaging you with the Renetti | Complete All Base Camo Challenges |
| Forged | Get 25 Longshots with the Renetti | Complete 4 Gilded Camo Challenges with pistols |
| Priceless | Get 25 Headshot Kills with the Renetti | Complete 36 Forged Camo Challenges |
| Interstellar | N/A | Complete 36 Priceless Camo Challenges |
WSP Stinger

| | | |
| --- | --- | --- |
| Green Sands | Get 50 kills with the WSP Stinger | 2 |
| Arctic Filaments | Get 50 Kills while Aiming Down Sights with the WSP Stinger | 6 |
| Geofunk | Get 10 Kills while moving with the WSP Stinger | 10 |
| Mind Test | Get 15 Kills with the Akimbo attachment equipped on the WSP Stinger | 14 |
| Gilded | Get 10 kills without the enemy damaging you with the WSP Stinger | Complete All Base Camo Challenges |
| Forged | Get 25 hipfire kills while strafing with the WSP Stinger | Complete 4 Gilded Camo Challenges with pistols |
| Priceless | Get 25 kills on enemies affected by tactical while using akimbo attachment with the WSP Stinger | Complete 36 Forged Camo Challenges |
| Interstellar | N/A | Complete 36 Priceless Camo Challenges |
Cor-45

| | | |
| --- | --- | --- |
| Deconstructed | Get 50 kills with the Cor-45 | 2 |
| Alert Glitch | Get 50 Kills while Aiming Down Sights with the Cor-45 | 9 |
| Acid Drop | Get 10 Kills while moving with the Cor-45 | 14 |
| Red Admiral | Get 15 Kills with the Akimbo attachment equipped on the COR-45 | 21 |
| Gilded | Get 10 kills without the enemy damaging you with the Cor-45 | Complete All Base Camo Challenges |
| Forged | Get 15 Kills on injured enemies with the Cor-45 | Complete 4 Gilded Camo Challenges with pistols |
| Priceless | Get 10 Headshot Kills with the Cor-45 | Complete 36 Forged Camo Challenges |
| Interstellar | N/A | Complete 36 Priceless Camo Challenges |
TYR

| | | |
| --- | --- | --- |
| Satin Swirl | Get 50 kills with the TYR | 2 |
| Topo Sandrock | Get 50 Kills while Aiming Down Sights with the TYR | 11 |
| Cherry Blossom | Get 10 Kills while moving with the TYR | 17 |
| Corrugated | Get 15 Kills with the Akimbo attachment equipped on the TYR | 26 |
| Gilded | Get 10 kills without the enemy damaging you with the TYR | Complete All Base Camo Challenges |
| Forged | Get 25 One Shot One Kills with the TYR | Complete 4 Gilded Camo Challenges with pistols |
| Priceless | Get 25 kills using a magnification scope with the TYR | Complete 36 Forged Camo Challenges |
| Interstellar | N/A | Complete 36 Priceless Camo Challenges |
Launchers
RGL-80

| | | |
| --- | --- | --- |
| Strain | Get 25 kills with the RGL-80 | 4 |
| Gilded | Get 10 Kills with Direct Impact with the RGL-80 | Complete All Base Camo Challenges |
| Forged | Destroy 25 Ememy Equipment with the RGL-80 | Complete 1 Gilded Camo Challenges with Launchers |
| Priceless | Get 25 Double Kills with the RGL-80 | Complete 36 Forged Camo Challenges |
| Interstellar | N/A | Complete 36 Priceless Camo Challenges |
Melee
Gutter Knife

| | | |
| --- | --- | --- |
| Sea Green Sands | Get 50 kills with the Gutter Knife | 4 |
| Gilded | Get 10 Kills on Operators affected by your tactical with the Gutter Knife | Complete All Base Camo Challenges |
| Forged | Get 5 kills without dying 5 times with the Gutter Knife | Complete 2 Gilded Camo Challenges with Melee Weapons |
| Priceless | Get 15 Revenge Kills with Gutter Knife | Complete 36 Forged Camo Challenges |
| Interstellar | N/A | Complete 36 Priceless Camo Challenges |
Karambit

| | | |
| --- | --- | --- |
| Dark Vision | Get 50 kills with the Karambit | 4 |
| Gilded | Get 10 Kills on Operators affected by your tactical with the Karambit | Complete All Base Camo Challenges |
| Forged | Get 5 kills without dying 5 times with the Karambit | Complete 2 Gilded Camo Challenges with Melee Weapons |
| Priceless | Get 15 Revenge Kills with Karambit | Complete 36 Forged Camo Challenges |
| Interstellar | N/A | Complete 36 Priceless Camo Challenges |
All MW3 Zombie Camo Challenges
ARs
MCW

| | | |
| --- | --- | --- |
| Wyvern | In Zombies, Get 250 kills with the MCW | 2 |
| Vehement Rage | In Zombies, Get 10 kills in five seconds 10 times with the MCW | 12 |
| Tempest Shards | In Zombies, Get 250 hipfire kills with the MCW | 19 |
| Toxic Spots | In Zombies, get 5 Mimic kills with the MCW | 28 |
| Golden Enigma | In Zombies, Get 100 Kills and Successfully Extract with the MCW in a Single Deployment | Complete All Zombies Base Camo Challenges |
| Zircon Scale | In Zombies, Get 300 Kills with the MCW while it's Pack-A-Punched | Complete 6 Golden Enigma Camo Challenges with ARs |
| Serpentinite | In Zombies, Get 10 Special or Elite Zombie Kills with the MCW | Complete 36 Zircon Scale Camo Challenges |
| Borealis | N/A | Complete 36 Serpentinite Camo Challenges |
SVA 545

| | | |
| --- | --- | --- |
| Wayward | In Zombies, Get 250 kills with the SVA 545 | 2 |
| Topo Ghast | In Zombies, Get 5 Kills without Releasing the Trigger 20 Times with the SVA 545 | 13 |
| Sludge | In Zombies, Get 250 Kills in the Medium or High Threat Zone with the SVA 545 | 20 |
| Choas | In Zombies, Get 250 kills with the SVA 545 while Having at least 4 Perks Active | 30 |
| Golden Enigma | In Zombies, Get 100 Kills and Successfully Extract with the SVA 545 in a Single Deployment | Complete All Zombies Base Camo Challenges |
| Zircon Scale | In Zombies, Get 300 Kills with the SVA 545 while it's Pack-A-Punched | Complete 6 Golden Enigma Camo Challenges with ARs |
| Serpentinite | In Zombies, Get 10 Special or Elite Zombie Kills with the SVA 545 | Complete 36 Zircon Scale Camo Challenges |
| Borealis | N/A | Complete 36 Serpentinite Camo Challenges |
MTZ-556

| | | |
| --- | --- | --- |
| Astray | In Zombies, Get 250 kills with the MTZ-556 | 2 |
| Murk Glitch | In Zombies, Get 250 Kills with Full Attachments with the MTZ-556 | 11 |
| New Strain | In Zombies, Get 250 Kills with the MTZ-556 while having at least 4 perks active | 17 |
| Mud | In Zombies, Get 20 Consectuive Kills with the MTZ-556 10 times without taking toxic damage | 26 |
| Golden Enigma | In Zombies, Get 100 Kills and Successfully Extract with the MTZ-556 in a Single Deployment | Complete All Zombies Base Camo Challenges |
| Zircon Scale | In Zombies, Get 300 Kills with the MTZ-556 while it's Pack-A-Punched | Complete 6 Golden Enigma Camo Challenges with ARs |
| Serpentinite | In Zombies, Get 10 Special or Elite Zombie Kills with the MTZ-556 | Complete 36 Zircon Scale Camo Challenges |
| Borealis | N/A | Complete 36 Serpentinite Camo Challenges |
Holger 556

| | | |
| --- | --- | --- |
| Subterranean | In Zombies, Get 250 kills with the Holger 556 | 2 |
| Topo Gloom | In Zombies, Get 10 kills in 5 seconds 10 times with the Holger 556 | 10 |
| Caustic River | In Zombies, Get 200 Critical Kills with the Holger 556 | 16 |
| Palette Cyst | In Zombies, Get 250 kills while in Tactical Stance with the Holger 556 | 24 |
| Golden Enigma | In Zombies, Get 100 Kills and Successfully Extract with the Holger 556 in a Single Deployment | Complete All Zombies Base Camo Challenges |
| Zircon Scale | In Zombies, Get 300 Kills with the Holger 556 while it's Pack-A-Punched | Complete 6 Golden Enigma Camo Challenges with ARs |
| Serpentinite | In Zombies, Get 10 Special or Elite Zombie Kills with the Holger 556 | Complete 36 Zircon Scale Camo Challenges |
| Borealis | N/A | Complete 36 Serpentinite Camo Challenges |
DG-58

| | | |
| --- | --- | --- |
| Typhoon | In Zombies, Get 250 kills with the DG-58 | 2 |
| Hysteria | In Zombies, Get 10 kills in five seconds 10 times with the DG-58 | 11 |
| Hallowed Glitch | In Zombies, Get 100 Kills on enemies with the DG-58 affected by your tactical | 17 |
| Petrified | In Zombies, Get 200 Critical Kills with the DG-58 | 25 |
| Golden Enigma | In Zombies, Get 100 Kills and Successfully Extract with the DG-58 in a Single Deployment | Complete All Zombies Base Camo Challenges |
| Zircon Scale | In Zombies, Get 300 Kills with the DG-58 while it's Pack-A-Punched | Complete 6 Golden Enigma Camo Challenges with ARs |
| Serpentinite | In Zombies, Get 10 Special or Elite Zombie Kills with the DG-58 | Complete 36 Zircon Scale Camo Challenges |
| Borealis | N/A | Complete 36 Serpentinite Camo Challenges |
FR 5.56

| | | |
| --- | --- | --- |
| Puncture | In Zombies, Get 250 kills with the FR 5.56 | 2 |
| Digital Wildwood | In Zombies, Get 300 kills while using Platinum Camo with the FR 5.56 | 8 |
| Unseen Ravager | In Zombies, Get 30 hellhound kills with the FR 5.56 | 13 |
| Anomaly | In Zombies, Get 250 hipfire kills with the FR 5.56 | 19 |
| Golden Enigma | In Zombies, Get 100 Kills and Successfully Extract with the FR 5.56 in a Single Deployment | Complete All Zombies Base Camo Challenges |
| Zircon Scale | In Zombies, Get 300 Kills with the FR 5.56 while it's Pack-A-Punched | Complete 6 Golden Enigma Camo Challenges with ARs |
| Serpentinite | In Zombies, Get 10 Special or Elite Zombie Kills with the FR 5.56 | Complete 36 Zircon Scale Camo Challenges |
| Borealis | N/A | Complete 36 Serpentinite Camo Challenges |
BRs
MTZ-762

| | | |
| --- | --- | --- |
| Firestorm Blur | In Zombies, Get 250 kills with the MTZ-762 | 2 |
| Topo Sickly | In Zombies, Get 250 kills with the MTZ-762 at Rare or higher rarity | 10 |
| Alert | In Zombies, Get 50 Mercenary kills with the MTZ-762 | 15 |
| Orange Satin | In Zombies, Get 100 kills shortly after using a Field Upgrade with the MTZ-762 | 23 |
| Golden Enigma | In Zombies, Get 100 Kills and Successfully Extract with the MTZ-762 in a Single Deployment | Complete All Zombies Base Camo Challenges |
| Zircon Scale | In Zombies, Get 300 Kills with the MTZ-762 while it's Pack-A-Punched | Complete 3 Golden Enigma Camo Challenges with BRs |
| Serpentinite | In Zombies, Get 10 Special or Elite Zombie Kills with the MTZ-762 | Complete 36 Zircon Scale Camo Challenges |
| Borealis | N/A | Complete 36 Serpentinite Camo Challenges |
BAS-B

| | | |
| --- | --- | --- |
| Reality Blur | In Zombies, Get 250 kills with the BAS-B | 2 |
| Spirit Glitch | In Zombies, Get 250 Kills in the Medium or High threat zone with the BAS-B | 12 |
| Forest Sands | In Zombies, get 250 Kills with Frost Damage with the BAS-B | 19 |
| Black Satin | In Zombies, Get 20 Consectuive Kills with the BAS-B 10 times without taking toxic damage | 29 |
| Golden Enigma | In Zombies, Get 100 Kills and Successfully Extract with the BAS-B in a Single Deployment | Complete All Zombies Base Camo Challenges |
| Zircon Scale | In Zombies, Get 300 Kills with the BAS-B while it's Pack-A-Punched | Complete 3 Golden Enigma Camo Challenges with BRs |
| Serpentinite | In Zombies, Get 10 Special or Elite Zombie Kills with the BAS-B | Complete 36 Zircon Scale Camo Challenges |
| Borealis | N/A | Complete 36 Serpentinite Camo Challenges |
Sidewinder

| | | |
| --- | --- | --- |
| Mutated Flare | In Zombies, Get 250 kills with the Sidewinder | 2 |
| Tide Surge | In Zombies, Get 10 Mangler Kills with the Sidewinder | 12 |
| Cacophony | In Zombies, Get 200 critical kills with the Sidewinder | 19 |
| Green Satin | In Zombies, Get 250 Point Blank Kills with the Sidewinder | 28 |
| Golden Enigma | In Zombies, Get 100 Kills and Successfully Extract with the Sidewinder in a Single Deployment | Complete All Zombies Base Camo Challenges |
| Zircon Scale | In Zombies, Get 300 Kills with the Sidewinder while it's Pack-A-Punched | Complete 3 Golden Enigma Camo Challenges with BRs |
| Serpentinite | In Zombies, Get 10 Special or Elite Zombie Kills with the Sidewinder | Complete 36 Zircon Scale Camo Challenges |
| Borealis | N/A | Complete 36 Serpentinite Camo Challenges |
SMGs
Rival-9

| | | |
| --- | --- | --- |
| Fading Breath | In Zombies, Get 250 kills with the Rival-9 | 2 |
| Cartilage | In Zombies, get 5 mimic kills with the Rival-9 | 9 |
| Tomb Glitch | In Zombies, Get 100 kills shortly after using a Field Upgrade with the Rival-9 | 14 |
| Cold Snap | In Zombies, get 250 Kills with Toxic Damage with the Rival-9 | 20 |
| Golden Enigma | In Zombies, Get 100 Kills and Successfully Extract with the Rival-9 in a Single Deployment | Complete All Zombies Base Camo Challenges |
| Zircon Scale | In Zombies, Get 300 Kills with the Rival-9 while it's Pack-A-Punched | Complete 6 Golden Enigma Camo Challenges with SMGs |
| Serpentinite | In Zombies, Get 10 Special or Elite Zombie Kills with the Rival-9 | Complete 36 Zircon Scale Camo Challenges |
| Borealis | N/A | Complete 36 Serpentinite Camo Challenges |
Striker

| | | |
| --- | --- | --- |
| Nocuous | In Zombies, Get 250 kills with the Striker | 2 |
| Topo Blaze | In Zombies, get 30 Hellhound kills with the Striker | 10 |
| Inner Demon | In Zombies, Get 250 kills with the Striker at Rare or higher Rarity | 15 |
| Living Tissue | In Zombies, Get 250 kills with Full Attachments with the Striker | 23 |
| Golden Enigma | In Zombies, Get 100 Kills and Successfully Extract with the Striker in a Single Deployment | Complete All Zombies Base Camo Challenges |
| Zircon Scale | In Zombies, Get 300 Kills with the Striker while it's Pack-A-Punched | Complete 6 Golden Enigma Camo Challenges with SMGs |
| Serpentinite | In Zombies, Get 10 Special or Elite Zombie Kills with the Striker | Complete 36 Zircon Scale Camo Challenges |
| Borealis | N/A | Complete 36 Serpentinite Camo Challenges |
AMR9

| | | |
| --- | --- | --- |
| Disoriented | In Zombies, Get 250 kills with the AMR9 | 2 |
| Toxic Sands | In Zombies, get 250 Kills with Frost Damage with the AMR9 | 12 |
| Ferver | In Zombies, Get 20 Consecutive Kills with the AMR9 10 times without taking damage. | 19 |
| Torment Glitch | In Zombies, Get 250 kills with Full Attachments with the AMR9 | 29 |
| Golden Enigma | In Zombies, Get 100 Kills and Successfully Extract with the AMR9 in a Single Deployment | Complete All Zombies Base Camo Challenges |
| Zircon Scale | In Zombies, Get 300 Kills with the AMR9 while it's Pack-A-Punched | Complete 6 Golden Enigma Camo Challenges with SMGs |
| Serpentinite | In Zombies, Get 10 Special or Elite Zombie Kills with the AMR9 | Complete 36 Zircon Scale Camo Challenges |
| Borealis | N/A | Complete 36 Serpentinite Camo Challenges |
WSP Swarm

| | | |
| --- | --- | --- |
| Familiar | In Zombies, Get 250 kills with the WSP Swarm | 2 |
| Unmarked Grave | In Zombies, get 250 Point Blank Kills with the WSP Swarm | 11 |
| Terracotta | In Zombies, Get 5 Mimic Kills with the WSP Swarm | 18 |
| Death Form | In Zombies, Get 250 Kills in the Medium or High Threat Zone with the WSP Swarm | 27 |
| Golden Enigma | In Zombies, Get 100 Kills and Successfully Extract with the WSP Swarm in a Single Deployment | Complete All Zombies Base Camo Challenges |
| Zircon Scale | In Zombies, Get 300 Kills with the WSP Swarm while it's Pack-A-Punched | Complete 6 Golden Enigma Camo Challenges with SMGs |
| Serpentinite | In Zombies, Get 10 Special or Elite Zombie Kills with the WSP Swarm | Complete 36 Zircon Scale Camo Challenges |
| Borealis | N/A | Complete 36 Serpentinite Camo Challenges |
WSP-9

| | | |
| --- | --- | --- |
| Perilous | In Zombies, Get 250 kills with the WSP-9 | 2 |
| Splintered | In Zombies, get 100 kills in a single match with the WSP-9 | 12 |
| Oracle | In Zombies, Get 250 Kills with Fire Damage with the WSP9 | 19 |
| Decrepit | In Zombies, Get 10 kills in five seconds 10 times with the WSP-9 | 28 |
| Golden Enigma | In Zombies, Get 100 Kills and Successfully Extract with the WSP-9 in a Single Deployment | Complete All Zombies Base Camo Challenges |
| Zircon Scale | In Zombies, Get 300 Kills with the WSP-9 while it's Pack-A-Punched | Complete 6 Golden Enigma Camo Challenges with SMGs |
| Serpentinite | In Zombies, Get 10 Special or Elite Zombie Kills with the WSP-9 | Complete 36 Zircon Scale Camo Challenges |
| Borealis | N/A | Complete 36 Serpentinite Camo Challenges |
Striker-9

| | | |
| --- | --- | --- |
| Dire | In Zombies, Get 250 kills with the Striker-9 | 2 |
| Topo Gargoyle | In Zombies, get 250 hipfire kills with the Striker-9 | 11 |
| Midnight Sands | In Zombies, Get 250 kills with Toxic Damage with the Striker-9 | 17 |
| Illusions | In Zombies, Get 250 kills while in Tactical Stance with the Striker-9 | 25 |
| Golden Enigma | In Zombies, Get 100 Kills and Successfully Extract with the Striker-9 in a Single Deployment | Complete All Zombies Base Camo Challenges |
| Zircon Scale | In Zombies, Get 300 Kills with the Striker-9 while it's Pack-A-Punched | Complete 6 Golden Enigma Camo Challenges with SMGs |
| Serpentinite | In Zombies, Get 10 Special or Elite Zombie Kills with the Striker-9 | Complete 36 Zircon Scale Camo Challenges |
| Borealis | N/A | Complete 36 Serpentinite Camo Challenges |
Shotguns
Riveter

| | | |
| --- | --- | --- |
| Marrow Sands | In Zombies, Get 250 kills with the Riveter | 2 |
| Global Panic | In Zombies, get 10 kills in five seconds 10 times with the Riveter | 10 |
| Palette Infected | In Zombies, Get 250 kills with Electric Damage with the Lockwood 680 | 16 |
| Melting Hope | In Zombies, Get 10 Mangler Kills with the Riveter | 24 |
| Golden Enigma | In Zombies, Get 100 Kills and Successfully Extract with the Riveter in a Single Deployment | Complete All Zombies Base Camo Challenges |
| Zircon Scale | In Zombies, Get 300 Kills with the Riveter while it's Pack-A-Punched | Complete 3 Golden Enigma Camo Challenges with Shotguns |
| Serpentinite | In Zombies, Get 10 Special or Elite Zombie Kills with the Riveter | Complete 36 Zircon Scale Camo Challenges |
| Borealis | N/A | Complete 36 Serpentinite Camo Challenges |
Lockwood 680

| | | |
| --- | --- | --- |
| Dark Sands | In Zombies, Get 250 kills with the Lockwood 680 | 2 |
| Pallette Rage | In Zombies, get 250 Hipfire Kills with the Lockwood 680 | 11 |
| Magma Beast | In Zombies, Get 250 kills with Electric Damage with the Lockwood 680 | 18 |
| Riddled | In Zombies, Get 20 Consecutive Kills with the Lockwood 680 10 times without taking damage. | 27 |
| Golden Enigma | In Zombies, Get 100 Kills and Successfully Extract with the Lockwood 680 in a Single Deployment | Complete All Zombies Base Camo Challenges |
| Zircon Scale | In Zombies, Get 300 Kills with the Lockwood 680 while it's Pack-A-Punched | Complete 3 Golden Enigma Camo Challenges with Shotguns |
| Serpentinite | In Zombies, Get 10 Special or Elite Zombie Kills with the Lockwood 680 | Complete 36 Zircon Scale Camo Challenges |
| Borealis | N/A | Complete 36 Serpentinite Camo Challenges |
Haymaker

| | | |
| --- | --- | --- |
| Burnt Sands | In Zombies, Get 250 kills with the Haymaker | 2 |
| Below Zero | In Zombies, get 250 kills while having at least 4 perks active with the Haymaker | 9 |
| Palette Buried | In Zombies, Get 250 kills with the Haymaker in the medium or High threat zone. | 15 |
| Inkblot | In Zombies, Get 10 kills in five seconds 10 times with the Haymaker | 22 |
| Golden Enigma | In Zombies, Get 100 Kills and Successfully Extract with the Haymaker in a Single Deployment | Complete All Zombies Base Camo Challenges |
| Zircon Scale | In Zombies, Get 300 Kills with the Haymaker while it's Pack-A-Punched | Complete 3 Golden Enigma Camo Challenges with Shotguns |
| Serpentinite | In Zombies, Get 10 Special or Elite Zombie Kills with the Haymaker | Complete 36 Zircon Scale Camo Challenges |
| Borealis | N/A | Complete 36 Serpentinite Camo Challenges |
LMGs
Pulemyot 762

| | | |
| --- | --- | --- |
| Dirt Filaments | In Zombies, Get 250 kills with the Pulemyot 762 | 2 |
| Pain Glitch | In Zombies, get 100 kills in a single match with the Pulemyot 762 | 12 |
| Purple Ooze | In Zombies, Get 250 kills with the Pulemyot 762 at Rare or higher Rarity | 19 |
| Blurred Myopia | In Zombies, get 5 Mimic Kills with the Pulemyot 762 | 28 |
| Golden Enigma | In Zombies, Get 100 Kills and Successfully Extract with the Pulemyot 762 in a Single Deployment | Complete All Zombies Base Camo Challenges |
| Zircon Scale | In Zombies, Get 300 Kills with the Pulemyot 762 while it's Pack-A-Punched | Complete 4 Golden Enigma Camo Challenges with LMGs |
| Serpentinite | In Zombies, Get 10 Special or Elite Zombie Kills with the Pulemyot 762 | Complete 36 Zircon Scale Camo Challenges |
| Borealis | N/A | Complete 36 Serpentinite Camo Challenges |
DG-58 LSW

| | | |
| --- | --- | --- |
| Psychedelic Ridge | In Zombies, Get 250 kills with the DG-58 LSW | 2 |
| Topo Spirit | In Zombies, Get 250 kills with the DG 58 LSW | 12 |
| Stonework | In Zombies, get 250 kills with the DG-58 LSW at Rare or higher Rarity | 19 |
| Spectral Sight | In Zombies, Get 200 critical kills with the DG-58 LSW | 29 |
| Golden Enigma | In Zombies, Get 100 Kills and Successfully Extract with the DG-58 LSW in a Single Deployment | Complete All Zombies Base Camo Challenges |
| Zircon Scale | In Zombies, Get 300 Kills with the DG-58 LSW while it's Pack-A-Punched | Complete 4 Golden Enigma Camo Challenges with LMGs |
| Serpentinite | In Zombies, Get 10 Special or Elite Zombie Kills with the DG-58 LSW | Complete 36 Zircon Scale Camo Challenges |
| Borealis | N/A | Complete 36 Serpentinite Camo Challenges |
Holger 26

| | | |
| --- | --- | --- |
| Archfiend | In Zombies, Get 250 kills with the Holger 26 | 2 |
| Drowned Sands | In Zombies, Get 10 kills without reloading 10 times with the Holger 26 | 9 |
| Patchwork | In Zombies, get 10 kills in five seconds 10 times with the Holger 26 | 14 |
| Daxed | In Zombies, Get 10 Disciple kills with the Holger 26 | 20 |
| Golden Enigma | In Zombies, Get 100 Kills and Successfully Extract with the Holger 26 in a Single Deployment | Complete All Zombies Base Camo Challenges |
| Zircon Scale | In Zombies, Get 300 Kills with the Holger 26 while it's Pack-A-Punched | Complete 4 Golden Enigma Camo Challenges with LMGs |
| Serpentinite | In Zombies, Get 10 Special or Elite Zombie Kills with the Holger 26 | Complete 36 Zircon Scale Camo Challenges |
| Borealis | N/A | Complete 36 Serpentinite Camo Challenges |
Bruen Mk9

| | | |
| --- | --- | --- |
| Isolation | In Zombies, Get 250 kills with the Bruen Mk9 | 2 |
| Jagged Edges | In Zombies, Get 250 kills with the Bruen MK9 at Rare or higher rarity | 9 |
| Avaricious | In Zombies, Get 250 kills while having at least four perks active with the Bruen Mk9 | 14 |
| Shin Rippers | In Zombies, get 250 Hipfire Kills with the Bruen Mk9 | 20 |
| Golden Enigma | In Zombies, Get 100 Kills and Successfully Extract with the Bruen Mk9 in a Single Deployment | Complete All Zombies Base Camo Challenges |
| Zircon Scale | In Zombies, Get 300 Kills with the Bruen Mk9 while it's Pack-A-Punched | Complete 4 Golden Enigma Camo Challenges with LMGs |
| Serpentinite | In Zombies, Get 10 Special or Elite Zombie Kills with the Bruen Mk9 | Complete 36 Zircon Scale Camo Challenges |
| Borealis | N/A | Complete 36 Serpentinite Camo Challenges |
Marksman Rifles
MTZ interceptor

| | | |
| --- | --- | --- |
| Psychedelic Misery | In Zombies, Get 250 kills with the MTZ Interceptor | 2 |
| Blood Brush | In Zombies, Get 100 kills shortly after using a Field Upgrade with the MTZ Interceptor | 8 |
| Slash Glitch | In Zombies, Get 30 Hellhound kills with the MTZ Interceptor | 12 |
| Destiny | In Zombies, Get 250 Kills with the MTZ Interceptor at Rare or Higher Rarity | 18 |
| Golden Enigma | In Zombies, Get 100 Kills and Successfully Extract with the MTZ Interceptor in a Single Deployment | Complete All Zombies Base Camo Challenges |
| Zircon Scale | In Zombies, Get 300 Kills with the MTZ Interceptor while it's Pack-A-Punched | Complete 4 Golden Enigma Camo Challenges with Marksman Rifles |
| Serpentinite | In Zombies, Get 10 Special or Elite Zombie Kills with the MTZ Interceptor | Complete 36 Zircon Scale Camo Challenges |
| Borealis | N/A | Complete 36 Serpentinite Camo Challenges |
MCW 6.8

| | | |
| --- | --- | --- |
| Spirit Brush | In Zombies, Get 250 kills with the MCW 6.8 | 2 |
| Topo Ooze | In Zombies, Get 100 Kills on enemies affected by your tactical with the MCW 6.8 | 10 |
| Decay | In Zombies, Get 250 kills with the MCW 6.8 at Rare or Higher Rarity | 16 |
| Unyielding | In Zombies, Get 200 Critical Kills with the MCW 6.8 | 24 |
| Golden Enigma | In Zombies, Get 100 Kills and Successfully Extract with the MCW 6.8 in a Single Deployment | Complete All Zombies Base Camo Challenges |
| Zircon Scale | In Zombies, Get 300 Kills with the MCW 6.8 while it's Pack-A-Punched | Complete 4 Golden Enigma Camo Challenges with Marksman Rifles |
| Serpentinite | In Zombies, Get 10 Special or Elite Zombie Kills with the MCW 6.8 | Complete 36 Zircon Scale Camo Challenges |
| Borealis | N/A | Complete 36 Serpentinite Camo Challenges |
KVD Enforcer

| | | |
| --- | --- | --- |
| Symptomatic | In Zombies, Get 250 kills with the KVD Enforcer | 2 |
| Palette Cursed | In Zombies, Get 10 Disciple Kills with the KVD Enforcer | 13 |
| Grim Reaper | In Zombies, Get 10 Kills in 5 Seconds 10 times with the KVD Enforcer | 20 |
| Thanatos | In Zombies, Get 250 kills in the Medium or High Threat Zone with the KVD Enforcer | 30 |
| Golden Enigma | In Zombies, Get 100 Kills and Successfully Extract with the KVD Enforcer in a Single Deployment | Complete All Zombies Base Camo Challenges |
| Zircon Scale | In Zombies, Get 300 Kills with the KVD Enforcer while it's Pack-A-Punched | Complete 4 Golden Enigma Camo Challenges with Marksman Rifles |
| Serpentinite | In Zombies, Get 10 Special or Elite Zombie Kills with the KVD Enforcer | Complete 36 Zircon Scale Camo Challenges |
| Borealis | N/A | Complete 36 Serpentinite Camo Challenges |
DM56

| | | |
| --- | --- | --- |
| Black Plague | In Zombies, Get 250 kills with the DM56 | 2 |
| Rusted Brush | In Zombies, Get 250 Kills with Full Attachments with the DM56 | 10 |
| Golden Sands | In Zombies, Get 10 Mangler Kills with the DM56 | 15 |
| Damned Souls | In Zombies, Get 250 Kills while in Tactical Stance with the DM56 | 23 |
| Golden Enigma | In Zombies, Get 100 Kills and Successfully Extract with the DM56 in a Single Deployment | Complete All Zombies Base Camo Challenges |
| Zircon Scale | In Zombies, Get 300 Kills with the DM56 while it's Pack-A-Punched | Complete 4 Golden Enigma Camo Challenges with Marksman Rifles |
| Serpentinite | In Zombies, Get 10 Special or Elite Zombie Kills with the DM56 | Complete 36 Zircon Scale Camo Challenges |
| Borealis | N/A | Complete 36 Serpentinite Camo Challenges |
Sniper Rifles
Longbow

| | | |
| --- | --- | --- |
| Calamity | In Zombies, Get 250 kills with the Longbow | 2 |
| Topo Ash | In Zombies, Get 250 Kills with Fire Damage with the Longbow | 13 |
| Palette Adjudicator | In Zombies, Get 250 Kills with the Longbow at Rare or Higher Rarity | 21 |
| Puzzled | In Zombies, Get 200 Critical Kills with the Longbow | 31 |
| Golden Enigma | In Zombies, Get 100 Kills and Successfully Extract with the Longbow in a Single Deployment | Complete All Zombies Base Camo Challenges |
| Zircon Scale | In Zombies, Get 300 Kills with the Longbow while it's Pack-A-Punched | Complete 3 Golden Enigma Camo Challenges with Sniper Rifles |
| Serpentinite | In Zombies, Get 10 Special or Elite Zombie Kills with the Longbow | Complete 36 Zircon Scale Camo Challenges |
| Borealis | N/A | Complete 36 Serpentinite Camo Challenges |
KV Inhibitor

| | | |
| --- | --- | --- |
| Incinerated | In Zombies, Get 250 kills with the KV Inhibitor | 2 |
| Spoiled Eggs | In Zombies, Get 5 Mimic Kills with the KV Inhibitor | 14 |
| Palette Grove | In Zombies, Get 250 Kills with Fire Damage with the KV Inhibitor | 22 |
| Strung Organs | In Zombies, Get 3 Kills in a single shot with the KV Inhibitor | 33 |
| Golden Enigma | In Zombies, Get 100 Kills and Successfully Extract with the KV Inhibitor in a Single Deployment | Complete All Zombies Base Camo Challenges |
| Zircon Scale | In Zombies, Get 300 Kills with the KV Inhibitor while it's Pack-A-Punched | Complete 3 Golden Enigma Camo Challenges with Sniper Rifles |
| Serpentinite | In Zombies, Get 10 Special or Elite Zombie Kills with the KV Inhibitor | Complete 36 Zircon Scale Camo Challenges |
| Borealis | N/A | Complete 36 Serpentinite Camo Challenges |
KATT-AMR

| | | |
| --- | --- | --- |
| Ruination | In Zombies, Get 250 kills with the KATT-AMR | 2 |
| Topo Stone | In Zombies, Get 200 Critical Kills with the KATT-AMR | 11 |
| Palette Corpse | In Zombies, Get 250 Kills with the KATT-AMR at Rare or Higher Rarity | 17 |
| Dimensional Shift | In Zombies, Get 250 Kills with Frost Damage with the KATT-AMR | 27 |
| Golden Enigma | In Zombies, Get 100 Kills and Successfully Extract with the KATT-AMR in a Single Deployment | Complete All Zombies Base Camo Challenges |
| Zircon Scale | In Zombies, Get 300 Kills with the KATT-AMR while it's Pack-A-Punched | Complete 3 Golden Enigma Camo Challenges with Sniper Rifles |
| Serpentinite | In Zombies, Get 10 Special or Elite Zombie Kills with the KATT-AMR | Complete 36 Zircon Scale Camo Challenges |
| Borealis | N/A | Complete 36 Serpentinite Camo Challenges |
Handguns
Renetti

| | | |
| --- | --- | --- |
| Mist Filaments | In Zombies, Get 250 kills with the Renetti | 2 |
| Hemoglobin | In Zombies, get 250 kills with Fire Damage with the Renetti | 9 |
| Radio Waves | In Zombies, Get 250 kills with the Renetti while having at least 4 perks active | 14 |
| Oxidized | In Zombies, Get 250 Kills with Full Attachments with the Renetti | 21 |
| Golden Enigma | In Zombies, Get 100 Kills and Successfully Extract with the Renetti in a Single Deployment | Complete All Zombies Base Camo Challenges |
| Zircon Scale | In Zombies, Get 300 Kills with the Renetti while it's Pack-A-Punched | Complete 4 Golden Enigma Camo Challenges with Pistols |
| Serpentinite | In Zombies, Get 10 Special or Elite Zombie Kills with the Renetti | Complete 36 Zircon Scale Camo Challenges |
| Borealis | N/A | Complete 36 Serpentinite Camo Challenges |
WSP Stinger

| | | |
| --- | --- | --- |
| Dead Sands | In Zombies, Get 250 kills with the WSP Stinger | 2 |
| Moss Filaments | In Zombies, get 250 kills with Electric Damage with the WSP Stinger | 6 |
| Lost Transmission | In Zombies, Get 250 Hipfire kills with the WSP Stinger | 10 |
| Apocalyptic | In Zombies, Get 250 kills with full attachments with the WSP Stinger | 14 |
| Golden Enigma | In Zombies, Get 100 Kills and Successfully Extract with the WSP Stinger in a Single Deployment | Complete All Zombies Base Camo Challenges |
| Zircon Scale | In Zombies, Get 300 Kills with the WSP Stinger while it's Pack-A-Punched | Complete 4 Golden Enigma Camo Challenges with Pistols |
| Serpentinite | In Zombies, Get 10 Special or Elite Zombie Kills with the WSP Stinger | Complete 36 Zircon Scale Camo Challenges |
| Borealis | N/A | Complete 36 Serpentinite Camo Challenges |
Cor-45

| | | |
| --- | --- | --- |
| Obsession | In Zombies, Get 250 kills with the Cor-45 | 2 |
| Hallucinate Glitch | In Zombies, get 250 kills with Fire Damage with the Cor-45 | 9 |
| Haunted | In Zombies, Get 250 kills with the Cor-45 while having at least 4 perks active | 14 |
| Grief Manifest | In Zombies, Get 250 Kills with Full Attachments with the Cor-45 | 21 |
| Golden Enigma | In Zombies, Get 100 Kills and Successfully Extract with the Cor-45 in a Single Deployment | Complete All Zombies Base Camo Challenges |
| Zircon Scale | In Zombies, Get 300 Kills with the Cor-45 while it's Pack-A-Punched | Complete 4 Golden Enigma Camo Challenges with Pistols |
| Serpentinite | In Zombies, Get 10 Special or Elite Zombie Kills with the Cor-45 | Complete 36 Zircon Scale Camo Challenges |
| Borealis | N/A | Complete 36 Serpentinite Camo Challenges |
TYR

| | | |
| --- | --- | --- |
| Royale Swirl | In Zombies, Get 250 kills with the TYR | 2 |
| Topo Grave | In Zombies, get 250 kills with Fire Damage with the TYR | 11 |
| Sunstroke | In Zombies, Get 30 Hellhound kills with the TYR | 17 |
| Crystal Palace | In Zombies, Get 10 kills in five seconds 10 times with the TYR | 26 |
| Golden Enigma | In Zombies, Get 100 Kills and Successfully Extract with the TYR in a Single Deployment | Complete All Zombies Base Camo Challenges |
| Zircon Scale | In Zombies, Get 300 Kills with the TYR while it's Pack-A-Punched | Complete 4 Golden Enigma Camo Challenges with Pistols |
| Serpentinite | In Zombies, Get 10 Special or Elite Zombie Kills with the TYR | Complete 36 Zircon Scale Camo Challenges |
| Borealis | N/A | Complete 36 Serpentinite Camo Challenges |
Launchers
RGL-80

| | | |
| --- | --- | --- |
| Pathosis | In Zombies, Get 250 kills with the RGL-80 | 4 |
| Golden Enigma | In Zombies, Get 100 Kills and Successfully Extract with the RGL-80 in a Single Deployment | Complete All Zombies Base Camo Challenges |
| Zircon Scale | In Zombies, Get 300 Kills with the RGL-80 while it's Pack-A-Punched | Complete 1 Golden Enigma Camo Challenges with Launchers |
| Serpentinite | In Zombies, Get 10 Special or Elite Zombie Kills with the RGL-80 | Complete 36 Zircon Scale Camo Challenges |
| Borealis | N/A | Complete 36 Serpentinite Camo Challenges |
Melee
Gutter Knife

| | | |
| --- | --- | --- |
| Foam Sands | In Zombies, Get 250 kills with the Gutter Knife | 4 |
| Golden Enigma | In Zombies, Get 100 Kills and Successfully Extract with the Gutter Knife in a Single Deployment | Complete All Zombies Base Camo Challenges |
| Zircon Scale | In Zombies, Get 300 Kills with the Gutter Knife while it's Pack-A-Punched | Complete 2 Golden Enigma Camo Challenges with Melee Weapons |
| Serpentinite | In Zombies, Get 10 Special or Elite Zombie Kills with the Gutter Knife | Complete 36 Zircon Scale Camo Challenges |
| Borealis | N/A | Complete 36 Serpentinite Camo Challenges |
Karambit

| | | |
| --- | --- | --- |
| Ripped | In Zombies, Get 250 kills with the Karambit | 4 |
| Golden Enigma | In Zombies, Get 100 Kills and Successfully Extract with the Karambit in a Single Deployment | Complete All Zombies Base Camo Challenges |
| Zircon Scale | In Zombies, Get 300 Kills with the Karambit while it's Pack-A-Punched | Complete 2 Golden Enigma Camo Challenges with Melee Weapons |
| Serpentinite | In Zombies, Get 10 Special or Elite Zombie Kills with the Karambit | Complete 36 Zircon Scale Camo Challenges |
| Borealis | N/A | Complete 36 Serpentinite Camo Challenges |