Key Takeaways for God Builder
God Builder is a tool in Smite that lets you create your own custom builds. It does not however allow you to create an entirely new God
Use God Builder to experiment and learn what the different items do
Always keep Auto-Purchase off, even if you're 100% happy with your build
Table of Contents
STORY CONTINUES BELOW
---

STORY CONTINUES BELOW
---

God Builder is by far one of the most useful features in Smite. We mentioned it briefly in our article on Smite Beginner Tips and Tricks. Well, it's finally time we took a look at it in detail and all of its ins and outs, to see how it works. 
In short, God Builder allows you to create custom builds for the different Gods. Sadly, it does not however allow you to create your own Gods, although, that would make for a pretty cool April Fool's event.
Before we continue, you might be interested in the Z League app, it's the best place to find like-minded gamers to play the games you enjoy.
How to Access God Builder
To access God Builder is actually really simple, just follow the following steps.
In the main menu, find and open the Gods tab.
From there, find the God that you want to design a God Build for
Once you've selected your God, a bunch of new options will pop up. Go to the bottom of the list, there you'll have the "God Builder" option.
And here's how to use God Builder.
How to Use God Builder in Smite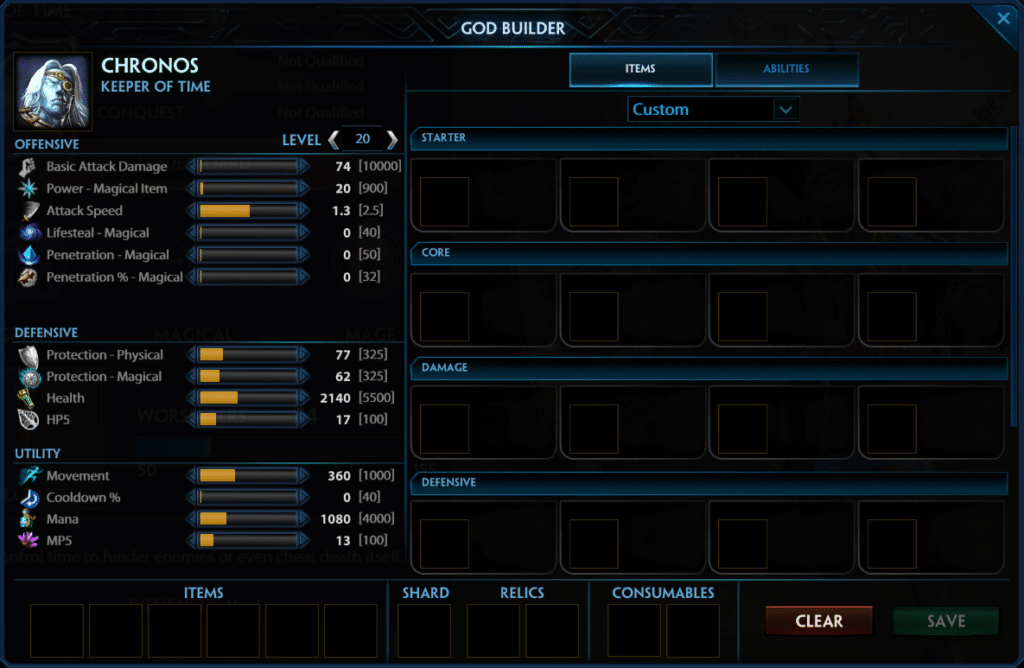 The first time you open God Builder, it'll look something like this. A completely blank slate with nothing on it. This might confuse you at first so let's take it step by step.
On the left-hand side, you have the different item stats. These are there to give you a representation of what your God's stats will look like at a given level. As you add items to your build, the values will change to reflect what the newly added items give you.
An important thing to keep in mind is that items that require stacks will be calculated in their unevolved state. So, if you think your stats are "rather weak" in comparison, it's because God Builder doesn't calculate evolved items.
To the right of that you have your items, separated into Starter, Core, Damage, and Defensive items. And right below that you have your Shard, Relics, and Consumables. Here is where you put the items you want to use in the future.
The labels are only there to guide you, you really aren't prevented from putting any sort of item in any of the slots. However, it's a smart idea to split the items up by their category, so it's easier to locate them. Any items that you build go into the build bar below your stats.
Of course, God Builder isn't only for creating item builds; you can also quite comfortably plan out the sequence in which you'd want to unlock your abilities. To go to this section, simply click on the Abilities tab at the top.
Here you can plan out which abilities you'd want to unlock and in what sequence. At the bottom of the screen, you have your different abilities (and passive) on display. To put an ability in the sequence, simply click on it and it will be added to the list.
Additional Advice Regarding God Builder
And that's basically it when it comes to how to use God Builder. However, he's some additional advice to keep in mind when using God Builder.
For starters, it's a smart idea to include some situational items in the list, regardless of the type of build you're going for. You never know when you'll need to adapt your build to face unforeseen circumstances.
Even if you're 100% happy with the builds you've made, it's a good idea to keep Auto-Purchase off at all times. No build is foolproof. Sometimes, you're gonna have to make a change to the sequence in which you purchase your items or unlock your abilities. Which is why you want Auto-Purchase off.
Lastly, use God Builder to experiment and learn. The different items in Smite change from Season to Season. New items are added while the old ones are rebalanced or entirely removed. God Builder is a useful tool to study these changes in between games.